5 MINUTE READ
by Carol Hopkins
Ron Muller, a renowned artist living in Acheron, has had an extremely eclectic career. He has reinvented himself at least four times, and his career switches have been so disparate and dramatic that he jokingly says his wife, Maree, has been married to four men! While the current version of Ron – an accomplished watercolour and landscape artist – has been around for over 30 years, his journey to this career has had plenty of twists and turns.
Ron began his working life about as far away from the art world as you can get with an apprenticeship in the General Motors Holden factory at Fisherman's Bend. Ron was encouraged into this area by his father, who placed a high value on having a trade. Ron excelled at his work and was supported by the company to study a Diploma in Mechanical Engineering at Caulfield Institute of Technology. But his heart wasn't in it.
"I wasn't all that fussed with engineering," he admits.
Part way through Ron's studies, the American evangelist Billy Graham arrived in Australia to conduct his Crusades. Inspired by Billy Graham's message, Ron decided to become a Baptist minister. After four years of study at Whitley University College, he was assigned to two churches in Malvern. This was in the 1960s, a time of immense social change, and Ron's enthusiastic engagement with the social issues of the time earned him a reputation as a bit of a radical. His progressive ideas, particularly for selling one of the churches to establish a social support and counselling centre, were not well received by the church. Eventually, disillusioned by the church's conservatism, Ron left the ministry.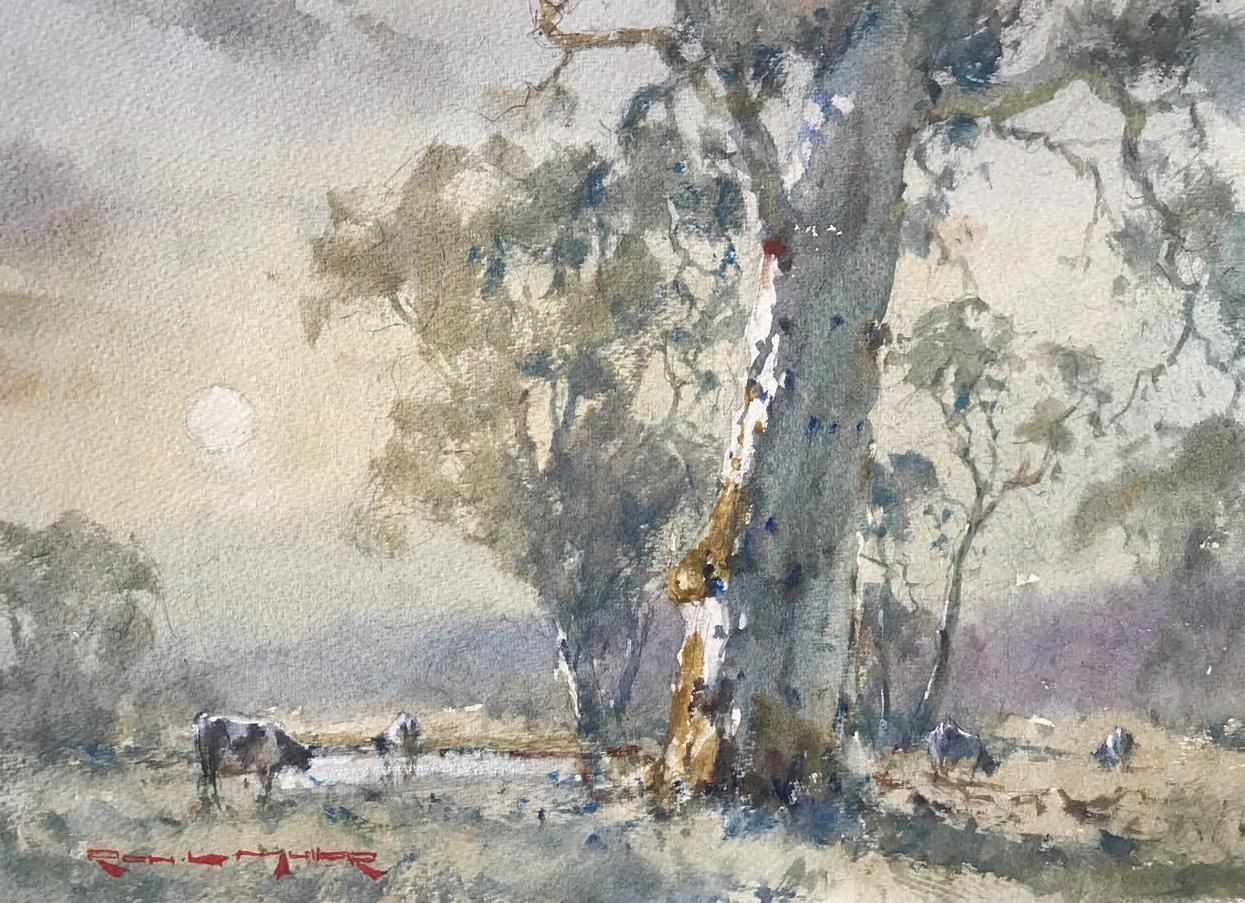 At first, Ron was at a bit of a loss as to what to do next. However, luck was on his side, and he was soon offered a job in the personnel department of the then Country Roads Board. Ron again took to this new role with gusto and rose rapidly through the ranks, eventually becoming a personnel manager. Along with recruitment and training, Ron was also heavily involved in industrial relations, but the ongoing stress involved in this role took its toll on his general health. In the end, his doctors told him he needed to quit. And so began his fourth incarnation, this time as an artist.
This career move wasn't as surprising as it might seem. As Ron explains, "Art had always been a silent interest of mine. It began when I was a kid. I always had a facility to draw. It was something that was latent and that I came back to."
Ron began to take lessons once a week with renowned watercolour artist C. Dudley Wood. These lessons ignited his passion for art. At the same time, Ron was reading extensively about the poets and artists of the Romantic tradition, who favoured intuition, emotion and imagination, rather than reason and science, as a means of viewing and interpreting the world. The Romantics were also captivated by the beauty of the natural world, particularly the play of light in the landscape. All these ideas, coupled with a love of the outdoors, resonated with Ron and set him on a course to become a celebrated landscape artist with sell-out exhibitions.
In explaining his style, Ron says he is an interpreter, not a reporter, of visual information. "I don't take a subject as it is. I use my imagination to reinterpret a subject, and that finally comes down to my response to it. It might be something in the light and the atmosphere of the subject. It might also be nostalgia. It's an emotional response."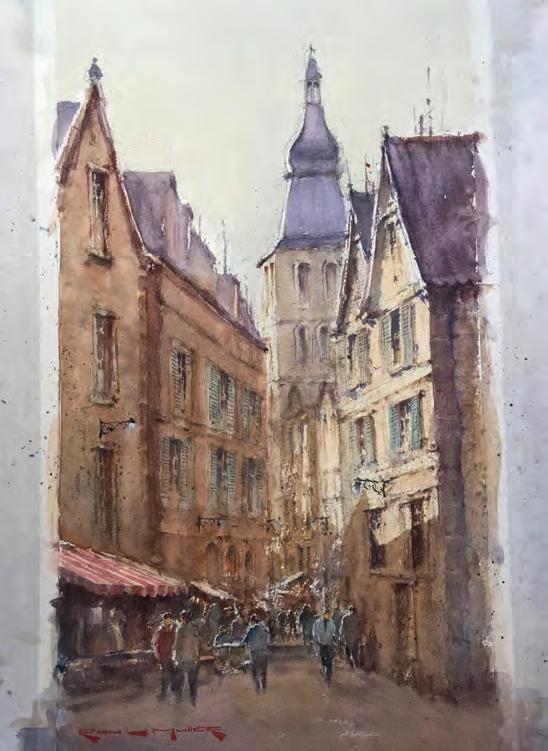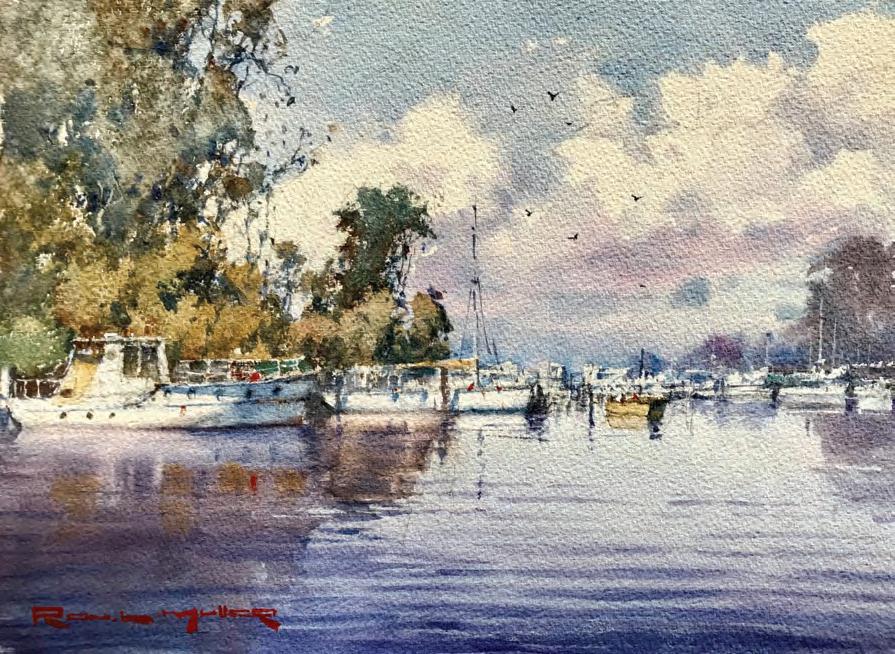 Capturing the effect of early morning and late afternoon light on the landscape is a hallmark of Ron's work, whether he is painting scenes from Australia or Europe. For this reason, he only works in watercolour because its fluidity and transparency are ideally suited for representing the subtle shifts he observes.
With many of his paintings, Ron says his aim is "to depict a subject so that the eye is taken through the painting, in and off and beyond". He says he wants to create something that draws the viewer in emotionally and makes them think it would be wonderful to just wander off through the depicted scene.
In addition to painting, Ron has been heavily involved in teaching art. He taught watercolour classes at the Doncaster Templestowe Art Society for 25 years and has run workshops throughout Australia and overseas. His workshops in Tuscany, Italy, were an outstanding success, as were those in the south of France. Now, he runs weekly watercolour classes in Taggerty for Murrindindi East U3A. He has also been a judge at many Rotary Art Shows.
While Ron used to exhibit his paintings in several major galleries, he notes with sadness that many of those galleries have now closed. The burgeoning online art market appears to have taken their place, but Ron doesn't have the interest to pursue this outlet for his paintings. Nevertheless, Ron continues to produce his iconic works.
"Painting is what I do. I can't not do it," he says.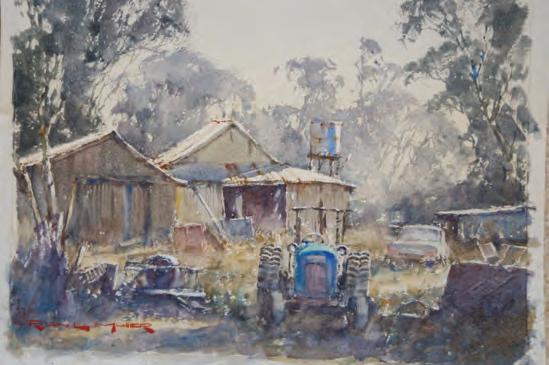 "Painting is what I do. I can't not do it."
~ Ron Muller
At right: Farmyard Corner, Alexandra
Throughout his life, Ron has demonstrated an amazing capacity for reinventing himself. He has approached each of his incarnations with enthusiasm and commitment, and he has achieved success in a wide variety of fields. Although he has no plans for further changes, it's just possible that we could see another incarnation of Ron and that his wife ends up being married to five, not just four, different men.
If you would like to know more about Ron Muller's art, you can visit his website www. ronmuller.com.au or send an email to mareearon@hotmail. com.