4 MINUTE READ
Angus industry trailblazer Ian Bates of Riddellvue Angus will offer up the first Australian sons of a US bull by the same name (Trailblazer) this autumn. The Alexandra-based stud has had renewed vigour and focus in recent years, with Mr Bates travelling far and wide to find the right genetic lines to introduce to the stud – and the Australian beef industry.
Riddellvue Angus' second autumn bull sale will be held on-property Wednesday 9 March, with 34 lots catalogued, and Mr Bates said 15 were suitable to put over heifers. It will be one of the first chances Australian producers have to secure sons by two leading US sires in Mogck Entice and Ferguson Trailblazer.
The catalogue includes five Mogck Entice sons, a bull which came highly recommended to Mr Bates by HCH Genetics and has American figures in the top 1% for growth and docility.
"He carries a fairly complete dataset but he's also holding a good body, good bone structure and I think he's going to make good future sires," Mr Bates says. "A lot of other studs are now looking for semen from Entice, and our lots to be offered are an interesting, well-put-together line of bulls."
Ferguson Trailblazer ranks in the top 10% of Expected Progeny Difference (EPD, the US version of ASBVs) for growth, docility, pregnancy rates, maternal calving ease, carcass weight, and marbling. Mr Bates concentrates on US genetics from North and South Dakota, as he "knows they handle the climate well," making sire selection more challenging since Covid-19 has restricted international travel.
"I don't get hung up on numbers, I don't like to focus on them, I am more about structural correctness and the animal being phenotypically right," he says. "But they (Entice and Trailblazer) are bulls that have been introduced that I think are capable of holding themselves – a lot of bulls don't have enough strength."
The Riddellvue autumn sale will also offer twin bull calves by the $50,000 Milwillah Napa N498, out of a Premier Angus cow Mr Bates purchased at that stud's dispersal in 2020.
Having managed the well-revered Anvil Angus stud down the road at Acheron from 2013 until its dispersal in 2018, Mr Bates was inspired to reinvigorate his own Riddellvue Angus stud, initially established by his parents in the 1970s.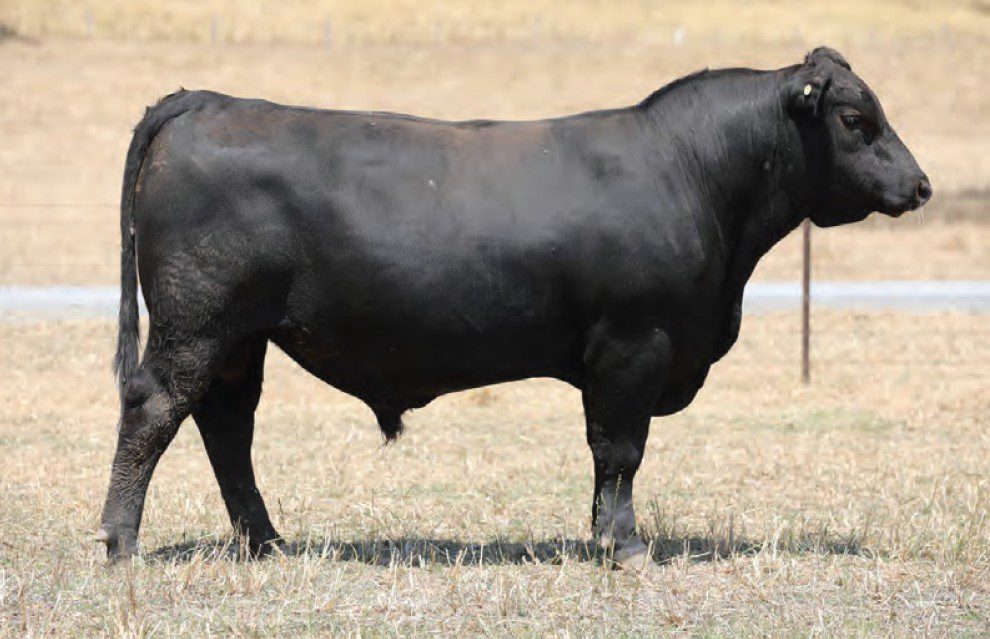 He's since held three successful bull sales, kicking off in spring 2020, and is set to continue twice annual offerings in 2022. In the spring of 2021, Riddellvue achieved a total clearance of 28 bulls to an average of $9071 – a climb of nearly $2000 from their previous on-property offering – and a top of $15,000, which was a record high for the stud. "The demand has been very good, a lot clients stayed with me from Anvil, and they know they are getting great value for money, especially the way the climate is with the beef industry," Mr Bates says. "The last sale averaged just over $9000, it was still a cheap sale relative to other offerings, but a very good result for us. "I like to focus on what I do well and I don't like to veer too much – I'm very focused on keeping the cattle right and correct with great feet, that's what I focus on all the time."
This next phase of Riddellvue Angus has coincided with good seasons and a record cattle market, and Mr Bates said he's keen to put his own stamp on the Angus breed in such a thriving environment.
"I haven't heard anyone have any bad vibes about the industry lately, I think there is a lot of strength in it for the next 12 months at least, and I can't see it coming back too far in the near future," he says. "Our clients have sold cattle at the annual January Yea weaner sales recently with very good results – the cattle I was breeding at Anvil went very well on feed, and now the buyers are following Riddellvue genetics because they know they will perform."
Riddellvue opened its gates for clients in January for Beef Week, and will host its second annual autumn bull sale on Wednesday 9 March, on-property near Alexandra at 1pm, and online via Auctions Plus. Visit www.riddellvue.com.au for more information.